I am a Life, Success and Wellness Coach
I encourage you to notice what moves in you as you explore these categories.
Notice if a spark comes alive in you, perhaps one that you have ignored long enough.
Notice, if it is time to take action.
Notice, if Now is the time to take that first step.
---
"Nona is filled to the brim with inner gifts she bestows upon her clients. Through coaching Nona allows her intuition, knowledge and wisdom to emerge while empowering her clients to live the best version of themselves."
Ann-Marie McKelvey, LPCC, MCC
Wellness Coach, Buddhist Chaplain,
Psychotherapist, EMDR Consultant
www.AnnMarieMcKelvey.com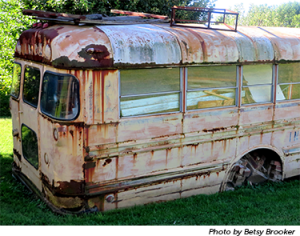 • Does the picture of this bus emulate some part of your life?
• Are you feeling stuck? Having difficulties moving forward? Or maybe you just needsome traction and a bit more gas in your tank?
• Are you feeling that ache to live more fully? Are you yearning to connect with your creative source and fuel your passion? Live your Real Me?
If you are unswerving in your commitment to living the ordinary day in an extraordinary way, then I would love to be your coach.
As you connect with and commit to your aspirations, whatever they may be, I will be your ally. I will support you in clarifying your goals, aligning with your strengths and talents, creating realistic steps and overcoming any obstacles that stand in your way. I will keep you accountable to your vision. Together we will navigate the terrain.
If you are ready to take the wheel and experience new vistas, moving your life beyond where you are now. I am here for you.
Contact me now to schedule your complimentary session.